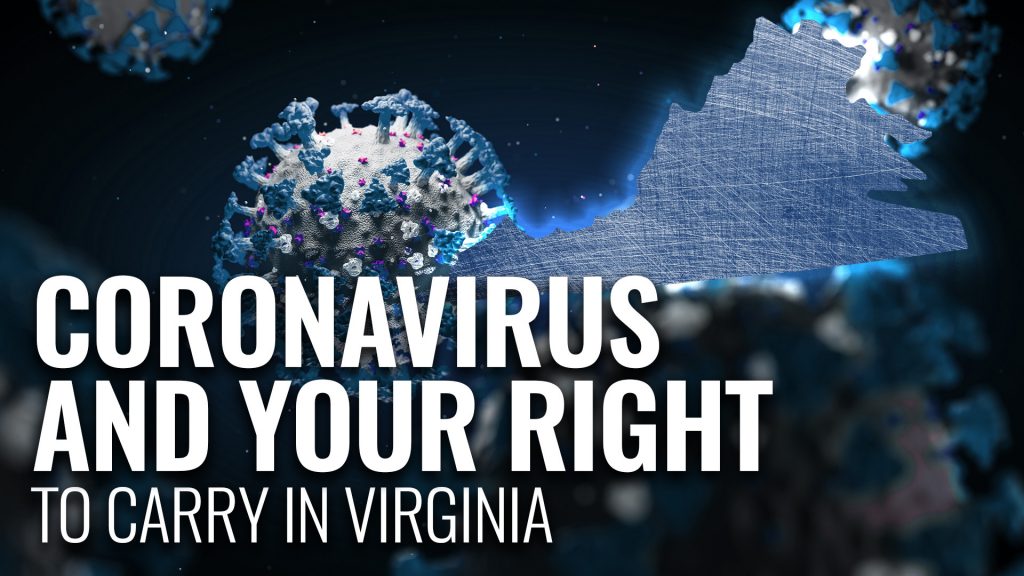 COVID-19 ("Coronavirus Disease") has spread around the world at a frightening speed and, more likely than not, has impacted your local community. The federal government has responded to this health crisis by restricting travel to specific countries and, most recently, imposed a 30-day travel restriction to the United States by foreign nationals in certain European countries.
COVID-19 has reached Virginia, and in response, Virginia has declared a State of Emergency. A federal State of Emergency has also been declared.
STATE OF EMERGENCY
The declaration of a state of emergency in Virginia lays the groundwork for a quarantine pursuant to Va. Code § 32.1-48.09. If any such quarantine is implemented, unless otherwise noted in the declaration, a violation of the quarantine order would be charged as a Class 1 Misdemeanor, and could also result in a civil fine, as noted in Va. Code § 32.1-27.
FIREARM RIGHTS DURING A STATE OF EMERGENCY
But how will these declarations and potential quarantines affect your firearms rights? Federal law under 42 U.S.C. § 5207 says that during a state of emergency the federal government may not seize firearms otherwise legally owned, may not require registration of firearms, and may not prohibit the possession or carrying of otherwise lawfully owned or carried weapons. There is, however, a small exception that allows the federal government to require temporary surrender of a firearm as a condition of entry to any mode of transportation as part of a rescue or evacuation.
However, at the state level many states suspend firearm rights during a disaster. This is concerning, because as panic buying occurs, some individuals may face a shortage of food or other supplies. Any such shortages seem to inevitably lead to looting and other criminal activity, which may ultimately endanger lives.
THE POWER TO LIMIT
Fortunately, in Virginia we have laws in place that largely prevent your firearm rights from being suspended during an emergency. Va. Code 44-146.15 says that, during an emergency, nothing allows the Virginia government to "limit or prohibit the rights of the people to keep and bear arms as guaranteed by Article I, Section 13 of the Constitution of Virginia or the Second Amendment of the Constitution of the United States." This means that during a disaster, the government does not have the power to limit "the otherwise lawful possession, carrying, transportation, sale, or transfer of firearms."
There is a small exception in this law (which was used by the Governor during the annual Virginia Citizens Defense League ("VCDL") Lobby Day in Richmond), which allows the government to limit your firearms rights to ensure public safety in any place or facility designed or used by the governor, or any other political subdivision of the commonwealth for purposes as an emergency shelter. If, for any reason, you are heading to a public government-run shelter, firearms may be restricted.
FOLLOW THE LAW
However, just because additional restrictions on firearms generally do not apply in Virginia, you still need to follow existing laws relating to carrying and transporting firearms within the state. If you go to a medical facility that has a policy prohibiting firearms, and you receive adequate notice of the policy, but you choose to carry a weapon anyway, you may be charged with criminal trespassing.
For any questions on what to do in the event of a state of emergency, contact U.S. LawShield and ask to speak to an Independent Program Attorney.
The post Coronavirus and Your Right to Carry in Virginia appeared first on U.S. & Texas LawShield.