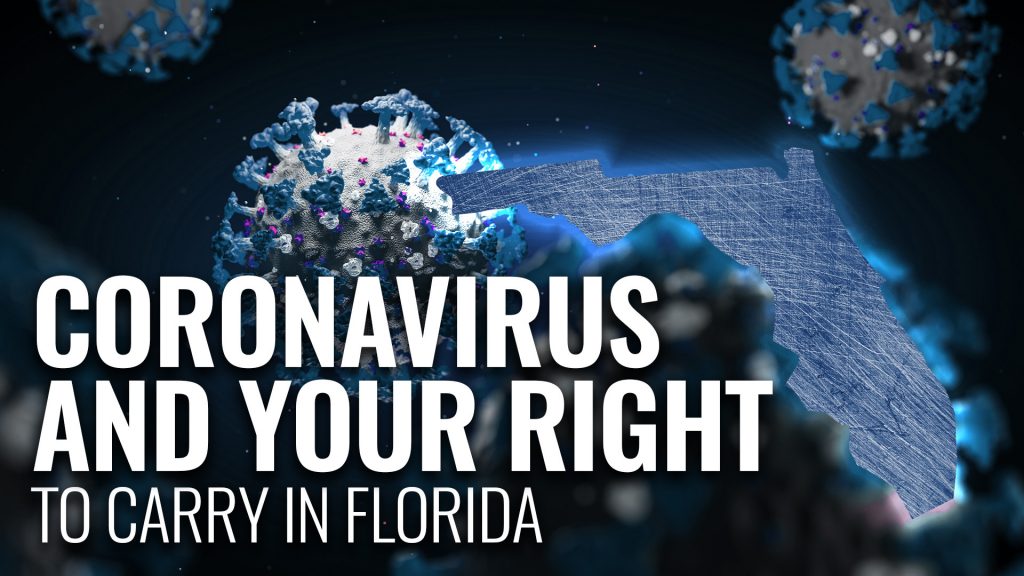 Coronavirus Disease 2019 ("COVID-19") has spread around the world at a frightening speed and, more likely than not, has impacted your local community. The federal government has responded to this health crisis by restricting travel to specific countries and, most recently, imposed a 30-day travel restriction to the United States by foreign nationals in certain European countries.
COVID-19 has reached the U.S. and many states, including Florida, have already declared a State of Emergency.
We want to remind Floridians that this does not change your gun rights in anyway. Florida has no law giving the government the power to confiscate your firearms during a state of emergency. Further, the provisions of 790.01, which allow for the unlicensed carry of a firearm during a State of Emergency, only apply when that declared state of emergency is accompanied by a mandatory evacuation order.
Mandatory Evacuation
To review, remember that Florida law allows a person to carry a concealed weapon, or firearm on or about his or her person while in the act of evacuating during a mandatory evacuation order issued during a state of emergency declared by the Governor or local authorities. The term "in the act of evacuating" means the immediate and urgent movement of a person away from the evacuation zone within 48 hours after a mandatory evacuation is ordered. The 48 hours may be extended by an order issued by the Governor.
It is important to note that the law does not go into effect unless two things have happened:
The Governor or local authorities issue or declare a State of Emergency; and
There is a MANDATORY evacuation order issued.
If the above conditions have been met, then a person who is evacuating within 48 hours of the order of evacuation may carry a concealed weapon during evacuation. The 48 hours may be extended by order of the Governor. This applies to anyone with or without a CWFL or recognized out of state license/permit to carry concealed, as long as they are not otherwise prohibited.
Quarantines
Florida also has a law regarding quarantines. As the virus has spread, there is currently only one quarantine zone in the U.S., located in New Rochelle, NY. However, should the need for quarantine arise in Florida, Florida Statute 381.00315 authorizes the Florida State Surgeon General, who serves as the State Health Officer, broad powers. Under direction from Governor DeSantis, State Surgeon General Dr. Scott Rivkees has already declared a statewide public health emergency for COVID-19. The Surgeon General now has the power to order an individual to be examined, tested, vaccinated, treated, isolated, or quarantined for communicable diseases. Further, individuals who are unable or unwilling to be examined, tested, vaccinated, or treated for reasons of health, religion or conscience may be subject to isolation or quarantine. Further, if the individual poses a danger to the public health, the State Health Officer may subject the individual to isolation or quarantine. If there is no practical method to isolate or quarantine the individual, the State Health Officer may use any means necessary to vaccinate or treat the individual. Finally, any order of the State Health Officer given to effectuate this paragraph shall be immediately enforceable by a law enforcement officer under Florida Statute 381.0012.
Violating isolation or quarantine is a second-degree misdemeanor, punishable by up to 60 days in jail, 6 months probation, and a fine up to $500.
For questions on what to do in the event of a state of emergency, contact U.S. LawShield and ask to speak to your Independent Program Attorney.
The post Coronavirus and Your Right to Carry in Florida appeared first on U.S. & Texas LawShield.